For Mini-Excavators and Skid Steers
High frequency and high production hydraulic breakers designed specifically for mini-excavators and skid steers for light to medium breaking of rock and concrete.
These hammers are effective in a wide range of construction and demolition applications from breaking concrete slabs to removing concrete sidewalks and pads. These hammers have been designed to minimize maintenance and downtime.
40, 45, 53, 68 and 75 models would be ideal for these jobs.
For Backhoe Loader and Midi-Excavators
For larger concrete jobs and rock excavation projects, the 80, 85, 90, 100, 120, 125 size models mounted on a backhoe loader and/or a midi-excavator is an ideal piece of equipment guaranteed to get the job done. Our hydraulic hammers operate on a combined oil and gas principle. The nitrogen chamber is designed to absorb piston recoil and recycle the energy to increase the power of the next impact rate.
For Large Excavators
These hammers are designed to handle the toughest and solid rock excavations and large and reinforced concrete demolition projects. Dual speed impact frequency allows the hammer speed to be adjusted for maximum productivity. 135, 140, 150, 155, 165, 175, 195 and 210 size models are more suitable for large excavators to get the job done. The full box enclosure protects the hammer minimizing hammer maintenance and reduces noise.
FELIX Breakers are designed in California and made in our Korean facilities. These well-built hammers are the toughest with highest productivity and longevity. Being made with proper Korean Steel, the lifespan of the hammers is off the charts. We're ready to help you choose the right equipment to get your project done right.
We believe FELIX Breakers are top quality and still have the competitive pricing plan which can be afforded by majority of the market. These breakers can be considered as unicorn since the quality and price ratio is way different than majority of the market. We've achieved this ratio by establishing a strong presence overseas and keep heavily investing in our manufacturing facilities over a decade.
These durable hydraulic breakers will take you until the end of your projects without any issues since they don't require a lot of maintenance due to their modern and effective built.
FELIX Skid-Steer Breaker Series (Spec Sheet)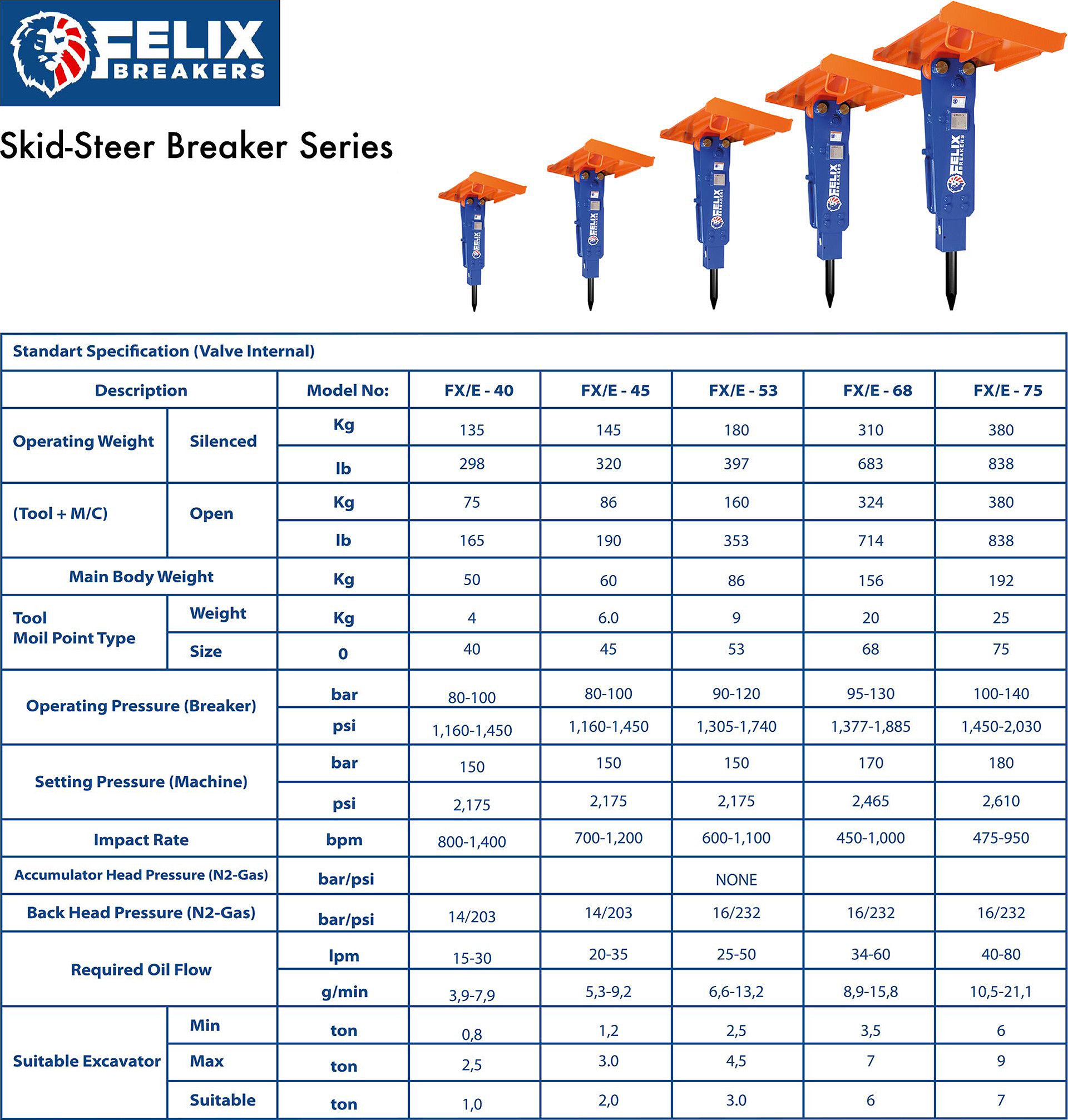 FELIX Excavator Breaker Series (Spec Sheet)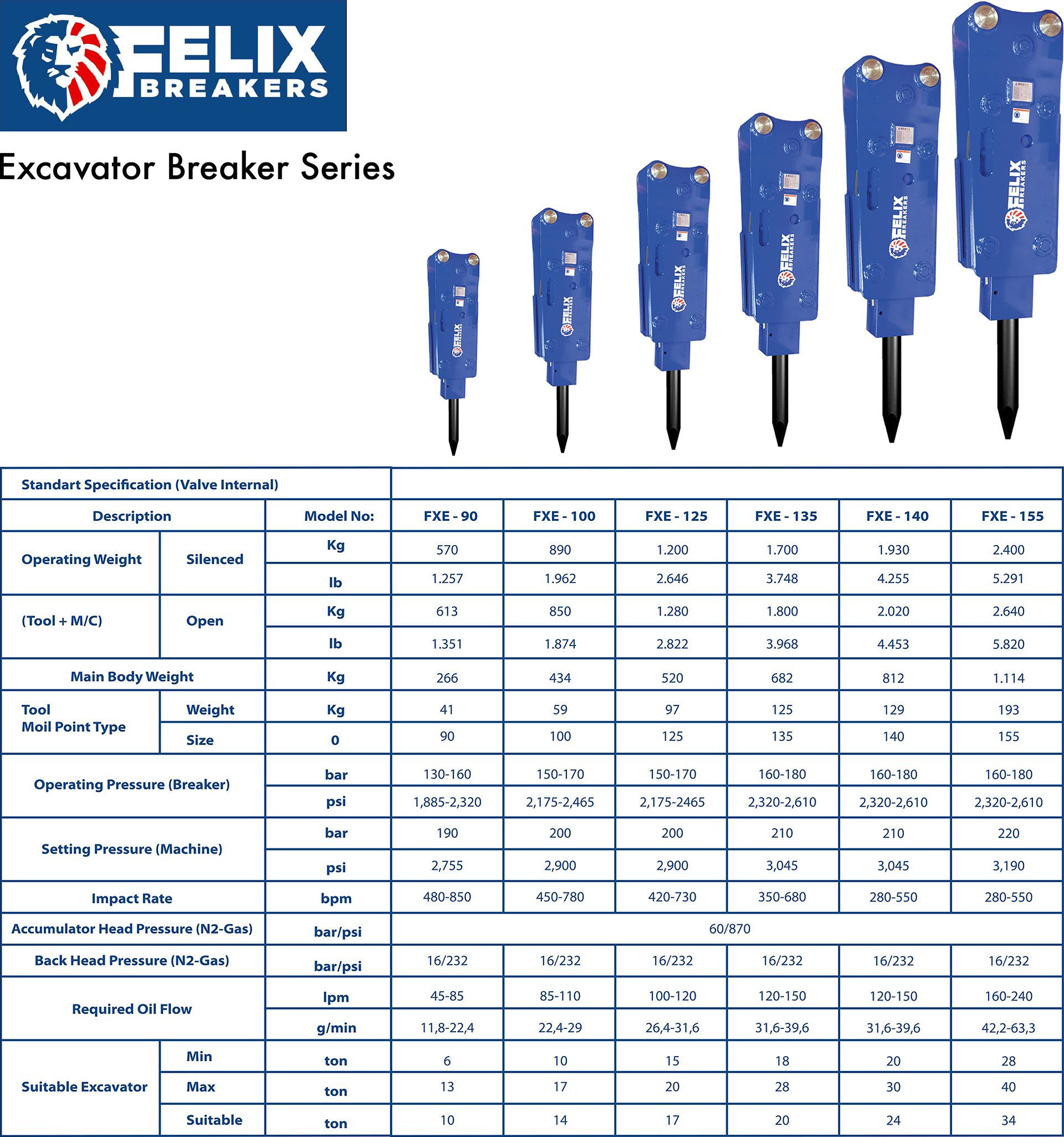 KRONN Hammers are the ultimate cost-effective hammers that cannot be beaten when it comes to CPI. Our hammers challenge any price out there in the market and get your job done properly. We're ready to help you choose the right equipment to get your project done right. (*CPI : Cost Performance Index)
Considering the prices are incredibly competitive on Kronn Hammers, there shouldn't be a mistake when it comes to evaluating the quality. By doing continuous R&D in our overseas manufacturing facilities to achieve the best results, we believe we've perfected the hammers design wise.
KRONN Hammers will get the job done regardless of the conditions, thickness of concrete pad or how solid the rock is and whether if it's reinforced or not. We have a hammer for every kind of job type that is possible when it comes to different types of construction sites.
KRONN Skid-Steer Breaker Series (Spec Sheet)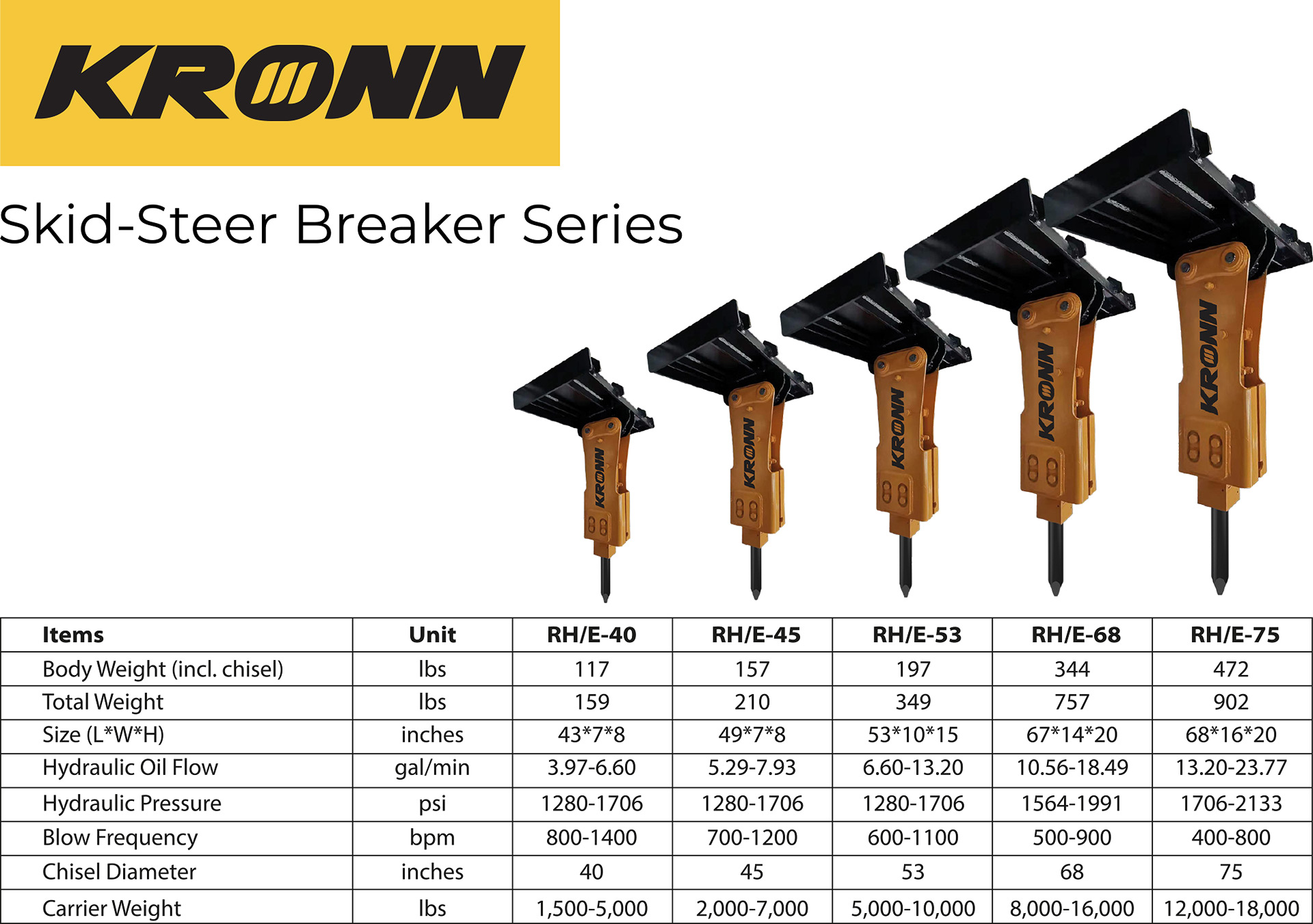 KRONN Excavator Breaker Series (Spec Sheet)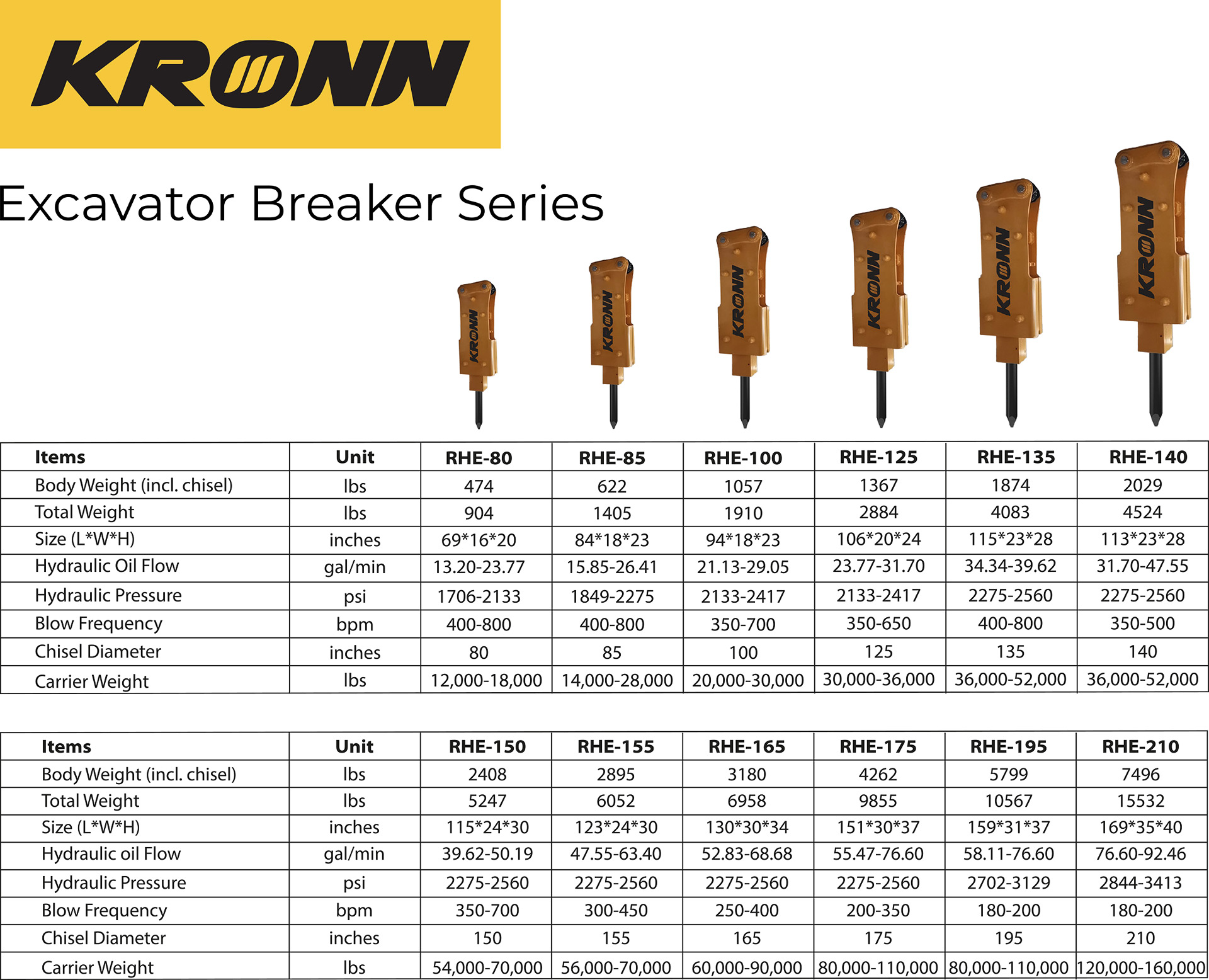 As Azemo Equipment, we're a dedicated and committed supplier of top-notch quality hydraulic breaker spare parts. By being sure that we have the required spare parts in stock at all times, we target to provide all the parts to our partners and customers right on time. The genuine parts are made out of high-quality materials with superior workmanship to ensure the longevity and durability. We value providing service and parts as much as we value providing hydraulic hammers.
We're always working hard on keeping as much as spare parts in stock in quantity, also keeping different variety of parts available for the hydraulic hammers we've provided in the past.
Examples as below;
Breaker Bits (Chisel, Moil, Conical, Blunt)
Nitrogen Charging Kits
Seal Kits
Grease Guns
Retainer Pins
Stop Pins
Hydraulic Hoses
Mounting Pins
Mounting Brackets
Tool Boxes
Tools
Through Bushings
Quick Couplers
Front Covers
Pistons
We're always available for questions and inquiries when it comes to spare parts since different generation of hydraulic hammers might require different parts. Also, we're ready to assist you finding the part you're looking for if it's not in stock since we have container coming in constantly from all around the world for hydraulic hammer parts.